Photo via Jerry Metellus
Cirque Du Soleil's name (French for "circus of the sun"), has come to be known as one of the most extravagant circuses that the world has ever known. It began as a small two-man troupe on the streets of Quebec, Canada and has grown into 3,500 performers and employees across 40 countries. You will find no rings of fire or animals of any kind on the stage of Cirque Du Soleil. It is known as a modern circus which celebrates the world of different cultures, circus styles, music, and how the human body is not only beautiful but amazing in its potential.
There have been many shows produced by Cirque Du Soleil over its 25 years in existence and they have touched upon the human subjects of love, power, freedom, mythology, and sensuality. Individually these shows have ranged from Alegria, which was a symbolic performance about the abuse of power and subsequent struggle for freedom. Quidam, is set within the surreal imagination of a young girl named Zoe. Dralion, was the attempt to recreate the strong, humorous classic circus style of the original Cirque performances. Varekai, which is a visual performance of the Greek myth, Icarus. Corteo, inspired by the famous Canadian exhibition known as, "The Great Parade: Portrait of the Artist as Clown", and Kooza, which is also the return to Cirque's whimsical origins, except set to the theme of Middle Eastern culture.
After these touring shows successes, a new era of Cirque Du Soleil began in the form of an elegant series of shows that would be located in the adult playground of Las Vegas, Nevada, USA. These shows have so far included Mystere, located at the Treasure Island Hotel and Casino; O, at the Bellagio (1.5 million gallon human aquarium); KA, at the MGM Grand; LOVE, at the Mirage, and finally the infamous Zumanity, "The Sensual Side of Cirque Du Soleil", at the New York, New York.
Photo via Tomasz Rossa
Zumanity was born into the Las Vegas venue on September 20th, of 2003. Laliberte, founder and chief executive officer of Cirque Du Soleil, was particularly interested in the creation of Zumanity. All of the other previous created shows had been family oriented and he wanted to explore the human side of pleasure, sexuality, and top it off with an endless supply of visual eye-candy and breath taking performances. Where else could one get away with such a theme, other than in the confines of a magical adult fantasy world where no one has to sleep, go hungry, resist temptation, or worry about leaving with anything they've done to following them home—or so the saying goes!
Part of the wonderment of all of these shows is not only in the talented and diverse performers, but also the diverse musicians who are obviously a very important part of the audience experience. Just as each performer is painstakingly hand picked to be part of a particular family of Cirque Du Soleil, the musicians must go through the same interview process. You see, even though Cirque Du Soleil is a solid root grounded by the recurring theme of international circus acts; its offspring (each individual show) is very specialized. A performer would never be able to transfer to a different show, because they are chosen for their unique connection to the story/theme and ability to relate the message to the audience. The cast becomes, for lack of a better term, like family and the show is their baby.
In light of this unique honor to be a part of the chosen elite as a cast member, we had the pleasure to interview two of the musical stars of Zumanity, Melle Vasquez (guitar) and Larry Aberman (drums). We use the word "stars" out of awe for their talent and dedication to their art and not to underscore all the other incredible performers that are featured within the orchestra pit. Well, you couldn't actually call it a pit, as it is actually a bridge stage situated 50 feet into the air that rises and falls throughout the evening in conjunction with the performance. The entire musical ensemble consists of three horns, piano, keyboards, drums, bass, guitar, violins, and two singers.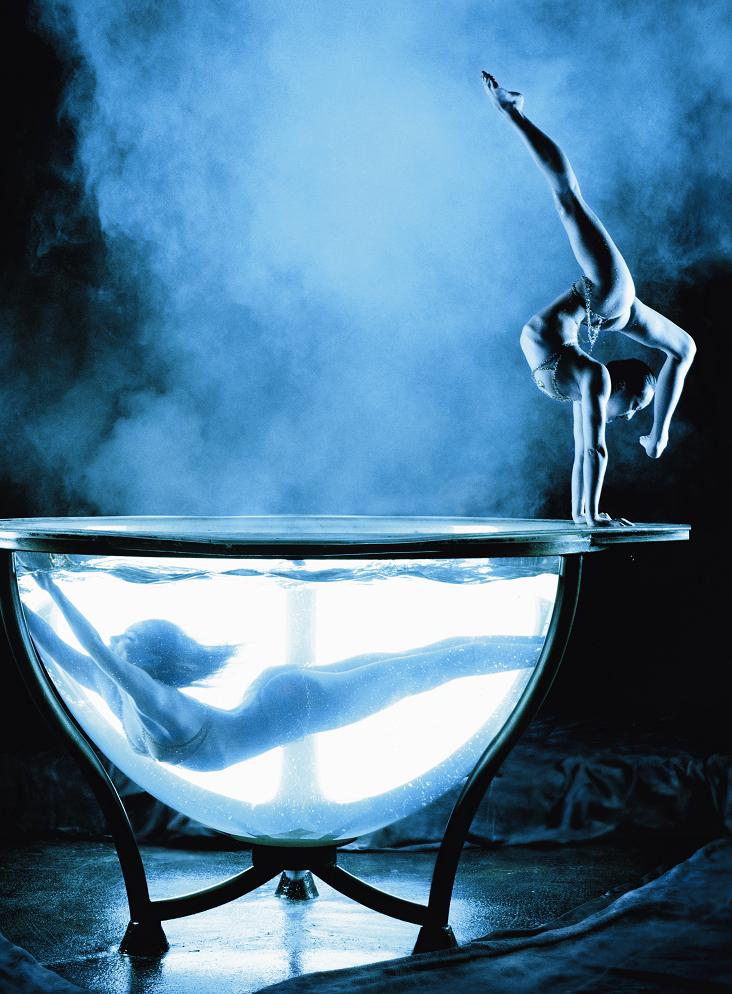 Photo via Phillip Dixon
It should be of no surprise to find that Melle and Larry have had quite a successful, star studded career beyond their four and a half years with Zumanity. Combined, they have played and toured with the likes of Cyndi Lauper, Tina Turner, Cher, Eddie Van Halen. Ben Harper, Lionel Ritchie, Pink, and David Lee Roth, to mention a few. Let us drop the orchestra platform all the way to the center stage and introduce to you two of the finest musicians to have ever played second fiddle to one of the greatest shows on earth. Here's Melle and Larry unplugged and o'naturale (well, so to speak):
Eric Leech: What did you want to be when you were growing up?
Melle Vasquez: "It's funny, because when I was a kid I used to tell my family that when I grew up I wanted to be a plumber. I said that for the longest time, but when I was seven my Uncle got a guitar from a friend of his and I picked it up and found it a place of endless discovery. I always got a thrill of going to concerts—the first cassettes I ever got was Elton John's Greatest Hits and Let it Be by The Beetles."
EL: How did the music interest begin for you, Larry?
Larry Aberman: "My brother joined a rock band, he was singing in the band and they used to rehearse at the house when I was around ten. I just started messing around with the drummers drums. I got a teacher pretty soon after that. I remember playing around on my drum set before I even started taking lessons and my teacher took one look at me and said, 'you're going to be a great drummer.' From age 11 I knew that's what I was going to do."
EL: What are three of both of your most memorable gigs throughout your career?
Melle V: "The first one was with Angela Bofill. She was a really popular jazz, contemporary, pop singer. I toured with her in the late 80's and we got to go to Asia and the thing I remember was that I have some relatives that live in the Philippines, so finally I had got to go and meet some of them. The second time was when I was touring with Cindy Lauper and we opened for Tina Turner in 1997 and it was the first major gig that I had ever done. I remember thinking wow, we are playing in front of all these people and Tina Turner coming on—she's a legend… she's a legend!"

"The last one was when I worked with Pink as a fill-in (guitarist). She was opening for Lenny Kravitz at the time—this was like 2002. I just remember having to really scramble to get prepared for the gig and going to Nashville. I remember not wearing any make-up and being in the dressing room and the keyboard player tapping me on the shoulder and me turning around and being introduced to Lenny Kravitz. I think he is pretty hot and I didn't want to look totally trashed, but I did (laughs)."
Larry A: "I worked on a record for Stevie Ray and Jimmie Vaughn. The first night we got there we set up all the gear—and I was pretty young, I was like 25 or 26. I was the first real big record I had ever worked on. I just never forget the feeling we all had; you could see the electricity. The brothers were so happy to finally be working together. I was ready to record the whole record the night (laughs). I remember the producer was looking at me and saying, 'It's alright man, we'll hit it tomorrow." The next day we cut the first song, D/FW, and that particular song went on to win a Grammy."

"Another one was I played with an artist named Joe Sample, he was a contemporary jazz artist and I didn't audition, I just told the manager who I was and he put me on a gig. It was in front of 12,000 people. The weirdest thing was a couple of the other bands that were on the bill; the drummers, I knew from my childhood. One was even an old teacher of mine—and here I was playing my first gig, a gig that everybody wanted. They were all standing around wandering who I was. The pressure was pretty amazing. Working with Cirque is a similar thing, I think I like the pressure. Whenever I feel nervous I get a smile on my face. That is the exciting part of being a musician."
EL: What chain of events led you to Cirque Du Soleil?
Melle V: "I was always very intrigued by Cirque when I saw Mystere for the first time in the early 90's. I remember being blown away and thinking to myself what it would be like to be a musician in Cirque Du Soleil. Then I saw that they were holding auditions in L.A. and I thought what the hell. I sent them my promo stuff and then they called. It was the longest audition that I've ever been on. I think I was in the room for an hour—hour and a half. I really didn't expect to get a call—and they called me a month later and said we really want you to be a part of Zumanity. It has been the most fascinating and humbling gig I have ever done."
Larry A: "I had a friend who was playing with Lisa Marie Presley and they were rehearsing for a week in a rehearsal studio in L.A. and Cirque was having auditions across the hall. This friends of mine makes friends with everybody, so by the end of the week he was pretty friendly with them. They told him they were looking for a drummer. He asked what they were looking for and when they told him, he just looked at them at said, 'I don't know if he'll do it, but my friend Larry is your guy'. They called me. I never turn down an audition for anything, so when they asked if I could come, I said, 'I'll be there in 15 minutes.' (laughs) I got a great gig—I was really looking for a change."
EL: What's the most amazing and embarrassing night you've ever experienced during performance?
Melle V: "Most embarrassing—there is a moment where the band bridge gets lowered in the show… so the audience can get a better view of the band. This one night the band bridge was getting lowered and I had all these sheet music papers next to me and somebody had forgotten to turn off the fan while the bridge was getting lowered and all of my papers blew on the stage while the performers were trying to do their act. I wanted to just crawl under a rock and die."

"The most amazing—there have been moments where I've had to be the vocal understudy. It was fun to actually have to play the guitar and sing the whole show. You feel like you've made more of a contribution than you normally do."
Larry A: "(Laughs) The most amazing night were the nights where we are going out to put on a show (for Cirque) and we're a little worked because there are a lot of loose ends and a lot of things that we don't know what's going to happen. Then you compound that the president of the company, Laliberte, being in the audience. Somehow, I don't know if you could call it divine intervention, but we get a standing ovation that night and we are all like, how did all this happen?"

"I don't want to single out any artist that I've played with and say that playing with this guy this particular night was embarrassing, but, I've got a good one for you—I played a tour with the rock band Foreigner. Mick Jones, the bass player, used to say every night before the first encore, 'We ain't going nowhere!', meaning we were going to play all night. But we (the rest of the band) interpreted it as, 'Yeah, of course; this bands going nowhere because we suck (laughs)—we are skyrocketing to oblivion!"
Melle and Larry invite you all to come down and see Zumanity for yourselves. There is truly magic within every Cirque Du Soleil show, but there is more to each performance than what meets the eye—the ear, soul, and heart are also indulged! There is no greater humility than what is found each and every night upon this stage. It is where the beauty of the body meets the strength of the soul and gives us a glimmer at what it means to be human and bask in the glory of all our perfectly placed imperfections—Amen!