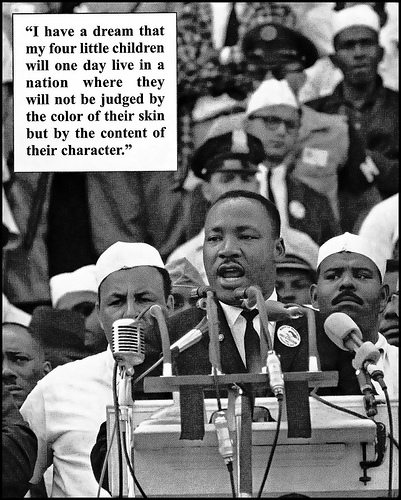 As the mortgage and banking industry began to collapse last year, a painful reminder that prejudice banking still exists echoed over thousands of foreclosed homes whose minority owners had taken out a second mortgage (with unfavorable terms) to obtain additional money. There are no government statistics of how many of these owners were business owners looking to build their business with these loans, but we can safely assume that many were.
If there is anything to be said here, it is that lending institutions are not always on the entrepreneurs side, especially the minority entrepreneur. The NAACP is currently in the process of pursuing a class-action lawsuit against 17 of these major lenders responsible for the crash. They found that of the thousands of unfavorable sub-prime mortgages that lead to the housing crash, 30 percent were given to African-American homeowners rather than Caucasians, even when they both had the same qualifications.
Howard Ross, Founder and Chief Learning Officer of Cook Ross Inc., has been working with two such troubled lending institutions, Freddie Mac and Fannie May, to develop a greater cultural competency to discourage this scenario ever happening again. Ross admits that there is such a thing as prejudice banking, but says it isn't so much that lenders don't see everyone as equals, as it is they fail to see our differences. "We are all struggling to make it work," says Ross, "but our inability to understand each other shows up as an irritation, fear, and prejudice."
For example, in America, debt has become a way of life. "Not only are most Americans in debt," says Ross. "Even our own government is in enormous debt." Business advisers get paid to tell Americans when they don't have enough debt. While Americans are obsessed with accumulating this so called good debt, many cultures see any type of debt as bad, or even shameful. This alone puts them at risk of poor terms if their hesitation is read by the loan officer as a lack of qualification or confidence.
"Diversity has been built on hundreds of years of past wounds inflicted upon each other," says Ross. We can't exactly expect things to heal themselves in 50 years of enforced civility. Cultural lending prejudice does exist, whether we choose to see, believe, or talk about it. Richelle Shaw, owner of Communication Experts, Inc. and FreshStart Telephone in Las Vegas, Nevada, certainly didn't want to see or believe it, but she experienced it firsthand. "I hit brick wall after brick wall," says Shaw, reminiscing over the years it took to purchase her first business.
"I had four strikes against me," says Shaw. "I was African-American, female, 29-years-old, and a little chubby." She was told there were programs for her, but most offered $10,000 to $50,000 and she needed one million. "The SBA qualified me, but hated the business—I found venture capital, but they ran away with $75,000 of my money—the owner of the business finally said, Richelle, we need a typical president—NASDAQ is not ready for a 29-year-old, African-American woman."
NASDAQ may not have been ready for Shaw, but nothing in history has ever changed by waiting, so she took the loan process into her own hands. But we'll get to that in a moment. Let's first look at the options she had to work with. There are a number of ways an entrepreneur can obtain a loan.
Loans can be obtained through a bank with a well prepared business plan, the SBA or other government business program, venture capital, angel investor, or friends and family. These are all viable sources, but the rainbow to this pot of gold is not always as colorful as some might have you believe. Each of these avenues represents a series of qualification steps that can lead to multiple misunderstandings depending on how well the lender has been trained to communicate with the borrower.
Sometimes its a language barrier at fault, other times just a cultural one. But if the lender and borrower cannot find the compassion to try to understand each other, misunderstanding turns to frustration, and frustration to prejudice. And once prejudice sets in, the borrower can forget about a favorable term loan. But there are ways around this, such as negotiating with the owner directly.
Rather than going the traditional method of purchasing a building for your business by pre-qualifying for a bank loan, have you ever thought about using FSBO (For Sale By Owner). This minimizes the chance of unfavorable terms by excluding the Realtor and banker, bringing the entire deal down to just the seller and buyer. Everything is backed by a legal contract, there is minimal risk, you can negotiate for no money down, no closing costs, no ballooning interest rates, and you can do all this without dealing with a prejudice bank.
This is how Shaw purchased her business. She negotiated a contract with the owner to give him a proportion of the companies receivables until the business was paid off. "He didn't pay any expenses, he got his money overtime, and we were both happy," says Shaw. While there is no way to completely eliminate lending prejudice, skipping the lender entirely is about as close as you can get.
When life hands you lemon loan officers, you make lemonade, then make a trade with your thirstiest customer to get what you're really after!
(Published in Rise-Up Magazine)