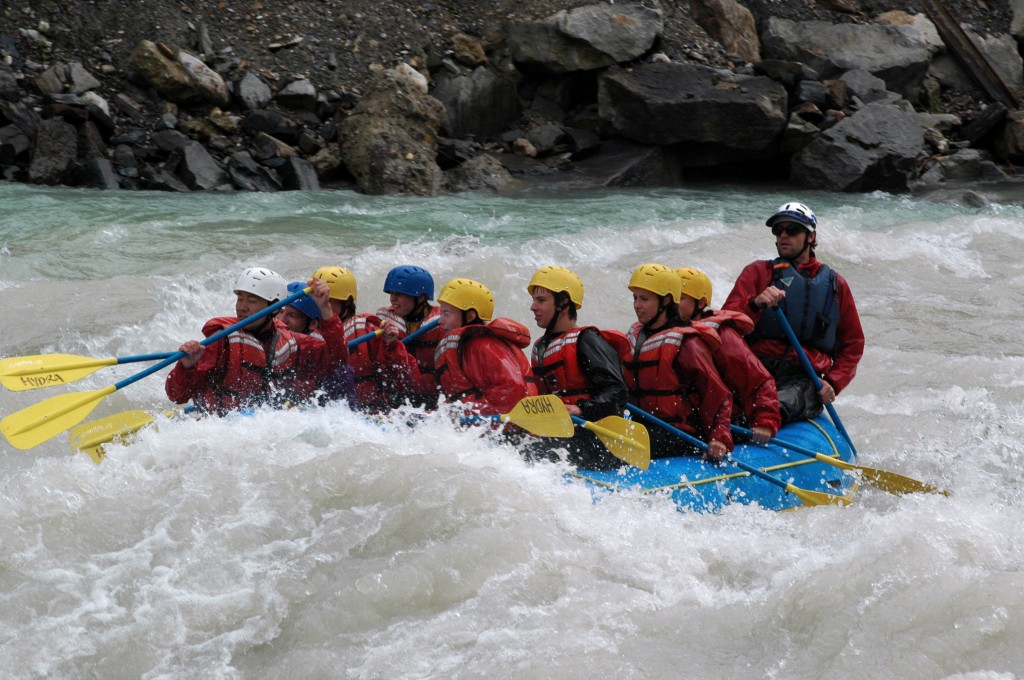 What does living life to the "extreme" in the summertime mean? Well, to some it means the thrill of plunging into a pine scented abyss of gurgling water, dodging bobbing rubber ducky's and balancing a laptop carelessly on the edge of their garden sized Jacuzzi tub. To others it means wavering carelessly in the lazy man-made pool/rivers of the Las Vegas casino hotels, making sure to stay awake long enough to lather a few blobs of sun block over their bodies before the 1 mile per hour current catches them up.
Then there are those who believe that a summer is not complete unless they have tackled as many class V river journeys as they can fit into every free weekend. Lucky for us, there is a cozy spot in between these extremes that would fit almost anyone's taste for living on the edge. Whitewater rapids are generally classified on a scale of one to ten. One being just a bit more exciting than a boring ride at Water World and ten being very similar to being shot from a catapult across your neighbors slip-n'-slide that's been rolled out over a garden of boulders and crocodiles.
Probably the most extreme whitewater trip ever recorded was led by the renowned explorer, Pasquale Scaturro. This trip opened up at the Springs of Sakala in Ethiopia (a.k.a. Little Blue Nile) and ended at the mouth of the Mediterranean Sea in the ancient Egyptian city of Alexandria. The trip lasted four months and involved a crew of sixteen explorers, an IMAX camera, one sixteen foot raft, gallons of cascading raw sewage, a few nose plugs and one stout kayak. This documentary can be viewed in the comfort and safety of a dry chair and your local IMAX theaters.
A few of the most extreme trips in North America as described by E-raft.com are the American Giant Gap, located in the Tahoe National Forest and the Forks of Kern, which is a multi-day trip through the remote Sierra canyons of California. New York has its Moose rapids, near Adirondack Park. West Virginia is known for its premier Gauley, which peaks during the fall time at Summersville Lake. Costa Rica has a difficult stretch of waters in their Peralta section of the Reventazon. The Snake (Murtaugh) of Idaho is famous for its early spring rapids and the Animas of Colorado is a majestic trip through the snow capped mountains of San Juan.
This is the part where I must tell you that you should be in relatively good physical condition to take on a whitewater adventure. It can be dangerous, but within the danger is a quiet beauty that cannot be experienced on foot anywhere else in the world. To find most any classification of whitewater river rafting trip in your area, visit the American Whitewater Association (www.americanwhitewater.org) for further details. If it is water and it involves your little ducky it probably isn't extreme unless you're pulling him in tow along the Chattooga canyons of South Carolina!
(Photo via jnmontario, originally published in Coffee House Digest)