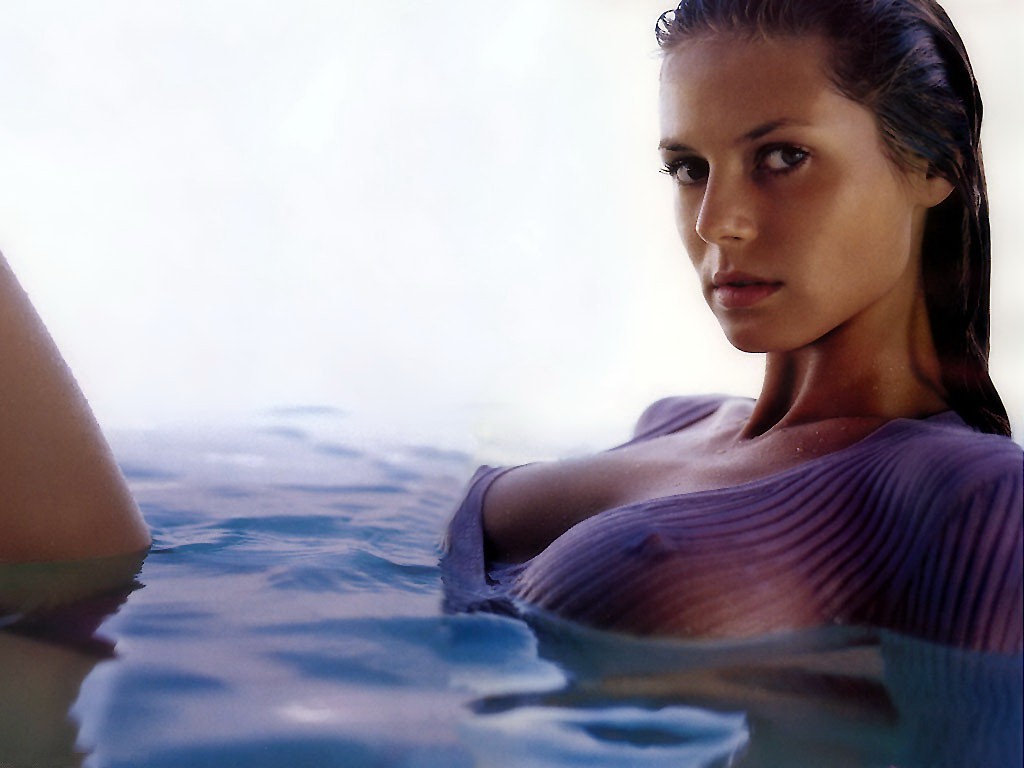 Born from a hairdresser and cosmetics executive on June 1, 1973 in Cologne, Germany, Heidi Klum's choices in life were obviously not far from becoming a supermodel. It was either that or a fashion designer, but when was the last time you've seen a designer with a pair of hooters like that? Exactly, so she went the modeling route. She was actually initially tempted by a $300,000 modeling contract while in high school through a New York agency after sending in a few snapshots of herself.
She turned down the contract offer in order to receive her diploma and attend a fashion designer school instead. You hear that kiddies, stay in school! Heidi managed to stay there for almost a year, until that $300,000 started calling her name through the thin walls of her cheap dorm apartment. She packed up both hooters, a bottle of hair bleach, her baby teeth (we'll explain later), and headed off to Miami, Florida to find her fame and fortune the old fashion way… billboard and runway intercourse, of course!
Heidi has lived a very interesting life. She was initially married at 23 to Ric Pipino, who was, you guessed it, a hairdresser. This old man proposed to her atop the Empire State Building and they were wed soon after. Ric was a good sport and agreed to several German wedding traditions, such as sawing a log in half with a two-handled blade and climbing a ladder to retrieve a wooden stork placed above the window of their bridal suite.
The German tradition of sawing the log in half was used to symbolize the couples life-long ability to work well together. The wooden stork, well, let's just say was meant to guarantee Ric would be able to provide children from the 'fruitiness' of his loins. Neither tradition had any positive effect and it took Heidi five years to come to her senses to dump Ric for some better company. When she did, she made another poor choice and hooked up with the lead singer of the Red Hot Chilli Peppers, Anthony Keidis, and then formula-1 bad boy, Flavio Briatore.
Flavio and Heidi had a wonderfully trusting and publicized few months together. That is until he was photographed copping a feel from jewelry heiress, Fiona Swarovski. Unfortunately, his seed had already planted in Heidi's womb, and not long before the couple broke apart (for obvious reasons), Flavio became a daddy.
Flavio didn't want the responsibility, so musical artist, Seal, saw his chance and stepped in. It wasn't long after their dating introduction that Seal popped the big question and on May 10, 2005, the couple sealed (no pun intended) the deal. They consummated their vows on a beach in Mexico and have thus remained together for several glorious baby making years. Today, they have three children. Helene "Leni" Klum (child of Heidi and Flavio), Henry Gunther Ademola Dashtu Samuel, and Johan Riley Fyodor Taiwo Samuel… (it will take hours to call these kids down to supper).
Heidi Klum's can best be described as having sex appeal with just about everything she does, walking, talking, eating, dancing, and even changing dirty diapers. But her real sexuality comes from her quirky personality. Heidi has been known to dance around juggling her own breasts while bantering in broken English about how much she loves those, "great knockers." At one time she even named both of her breasts to help us North Americans keep them straight. "Zeez are German breasts yah? Ze left one is named Hanz and the right, Franz," she would say, or was that the other way around.
Today, she claims her smile has always been her favorite 'part' of her body, but we question that as she hasn't exactly named each one of her teeth now has she. She travels with goldfish in her diaper bag, has her own pregnant dance, can yodel better than Tarzan himself, and has a bag of baby teeth (her own baby teeth), of which she carries with her everywhere she goes for good luck!
But I've left out one of the most important aspects of being Heidi Klum. Yeah, she's hot, but so are a lot of women. Where Heidi really stands out is from her infamous rein as a Victoria Secret angel. It took four years of traditional fashion modeling from Heidi's humble beginnings before she was offered a runway stint for Victoria. But once her name appeared with the likes of veteran angels, Tyra Banks, Stephanie Seymour, and Helena Christensen, Heidi's career catapulted into supermodel status. It was 1997 when Heidi first became an angel and then just one year later she was given the honor of appearing on the cover of Sports Illustrated, with Hanz and Franz flexing their behemoth bulges.
Today, Heidi has been appropriately nicknamed "The Body". In addition to this bestowed title she has had everything but had an all out scratch fest with ex-Victorian, Elle Macpherson, in the attempts to declare who is the rightful title holder. You see, Elle claims she was given the name back in the eighties, while Heidi recently unveiled the name in 2005 along with her new bra line. Ladies, ladies… nobody cares who was the original 'body'—You've both got great ones and that's all that really matters. So, put your French manicured nail extensions away, ease those straining Botox brows and take pride in the fact that you've both become multimillionaires out of the simplicity of a nice face and great cans!
But all models must eventually come to the realization that looks are only as deep as the first few decades of their life, and Heidi has been slowly moving away from modeling and towards television and film acting. When I say acting however, I am not talking Shakespeare. She has been seen in Sex and the City, Spin City, How I Met Your Mother, and bit movie parts, like The Devil Wears Prada. She also has a couple of reality shows under her belt, such as Project Runway and Germany's Next Topmodel.
You may also recognize her in a few popular video games, such as the 2004 James Bond: Everything or Nothing, where she played the evil German villain Dr. Katya Nadanova. 'The body' can also sing too, or at least carry a tune as we found from her debut television commercial single titled "Wonderland". She has also been featured in a duet with hubby Seal from his 2007 System album, called "Wedding Day".
Heidi is not only sexy, quirky, talented, and physically well-endowed; she also has a great sense of humor. She has appeared in the television series, Malcolm in the Middle, as a toothless hockey player, participated in a naked cooking show, and gone on the Ellen DeGeneres Show and made fun of Britney Spears who crashed her Halloween Bash party last year. Britney apparently cornered Heidi and ended up instructing her on how to strap a disposable diaper onto her newly born sons rear-end:
"We were talking about babies and diapers and she explained to me a lot of things about diapers I didn't know. You know those sticky things on the side? I never knew they were there. To close them in the front I was always putting string around. I had no idea. It's very clever." (Ellen DeGeneres Show, 2007)
The shows comedy act backfired slightly, as fans began to throw the video all over Youtube claiming her as just another dumb blond. But Heidi is certainly anything but dumb. She has been ranked in Forbes as one of the top 100 celebrity powers of the world and furthermore she isn't even a 'real' blond. Supermodels shall forever come and go, but very few last the test of time and beauty and find their way across magazine covers long after their baby making years. But Heidi is something special, she has taught us that beyond every silver lining is a little tarnish, but it all wipes away if you allow yourself the space to make the failures that lead to your eventual success!