How much do you really know about Jaime Pressly? She's got a great body, sultry blonde hair, great bazooms, nice long legs, a firm butt… What are we forgetting?
"There's more to me than my long blonde hair and my little dancer body," Jaime defiantly exclaims. You know, she's absolutely right. While she may haven gained popularity with her looks, what has held her in the limelight for the past ten years is so much more than that. We are talking about her spirit, strength, confidence, charm, boldness, and most certainly her sense of humor. She would not be who she is today without her life experiences. To understand who Jaime is, we must start from the beginning.
"I don't want to be the Hollywood girl," Jaime has told her fans. "I'm Southern and old-fashioned." Jaime was born as, Jaime Elizabeth Pressly in the hot summer month of July, in 1977. She grew up in the small town of Kinston, located on in the inner banks of North Carolina, USA. This makes Jaime a sweet Southern bell whose Leo influence obviously tarnished the silver lining of her pony tails, leaving only two big brass ovaries, of which she proudly displays whenever asked about her true roots.
"I'm a Leo," bursts Jaime. "People just didn't see me as this sweet, vulnerable, innocent girl—they saw me as the strong, tough, whatever, who could play the bit** well, and bit**es are fun to play, they really are." She is a proud Leo. In fact, on the small of her back, tattooed in blue Japanese letters, is the insignia of the powerful Leo lion. "Healthy, Strong, and Brave" is what the letters read. She also wears a Leo sign necklace and has a mural painted on a wall in her home, which was crafted out of multiple Leo symbols. Her Leo attitude has got her in trouble a number of times, such as when she met up with an arch nemesis from her childhood in California several years ago.
"She hit me in the face with a beer bottle, so I beat the crap out of her. I hit her so hard, I broke one knuckle and dislocated another." Yes, unlike the typical Southern bell, who would gather their dolls around the tea table in their best dress and talk about sugar, spice and everything nice, she preferred to climb trees, play with frogs, snails, worms, grasshoppers, go fishing, and dance. She loves to dance, as if you couldn't already tell by her "chicken legs", as her father used to call her long and muscular thighs. Jaime trained in the art of dance and gymnastics for 11 years before trading it in for a career in modeling.
As a teenager, in the midst of relationship problems between her parents, Jaime traveled overseas to Italy and Japan during an International Cover Model Search. In the USA, Jaime had very limited success as a model, but in Japan and Italy, the advertisers loved the young bombshell. This gave her the confidence she needed to eventually emancipate herself from the turmoil of her parents ongoing divorce and go out on her own as a legal adult at the tender age of 15.
It wasn't until 1997 that Jaime realized her true calling as a film starlet when she was offered the role as the seductive "Violet" in the third installment of the Poison Ivy motion picture trilogy. "I hate that movie," Jaime Pressly has told the media. "When I signed on, there were supposed to be two quick nude scenes, but when the producers saw me naked, all of a sudden I was naked in every scene—now it's always on cable—a nightmare that won't go away." Rumors have suggested that Jaime posed nude as a body double for Drew Barrymore in the previous Poison Ivy film, although she denies it, telling Playboy magazine, "People say I body-doubled her (Drew) and it was my boobs and my a** in the movie instead of hers, but that isn't the case—I haven't had a body double myself, but I'm not opposed to it."
However, even if those first couple glimpses of that 19-year-old hard body were false, we wouldn't have to wait long to see the real goods. In 1998, Playboy featured the lovely Jaime in her first nude layout, which is probably still imprinted on the bottoms of thousands of mattress pads once belonging to teen boys across the world. Even so, since Jaime did not want to become just another pinup girl, it was not long after her first success with Poison Ivy: The New Seduction, that she was given a role in the teeny-bopper flicks, Can't Hardly Wait and Ringmaster (staring Jerry Springer).
1998 was also the infamous year rumors began to fly that the playmate had pulled a Britney Spears/Carmen Electra and married some dude she hardly knew by the name of Brodie Mitchell. It seemed to work for previous gals to get attention, so why not give it a try. Since then, she has admitted that she had heard of who he is, but did not actually personally know him. It turned out, this Brodie guy just wanted to claim first bragging rights to the beauty and spread these rumors through the grapevine, of which most media members were only too happy to oblige.
In 1999, Jaime emerged as a swinging single and in the limelight once again in the WB network hit, Jack & Jill. She found herself quickly becoming a teen idol and a common household name. Continuing with her teen focused success, in 2001, she accepted a role in the motion picture which humorously admitted its focus audience in the title, Not Another Teen Movie. She also played a part in David Spades, Joe Dirt, that same year. In 2004, she was appeared in the high-octane motorcycle thriller, Torque, and by this time, the blonde bombshell had found her way onto the Hollywood fast track!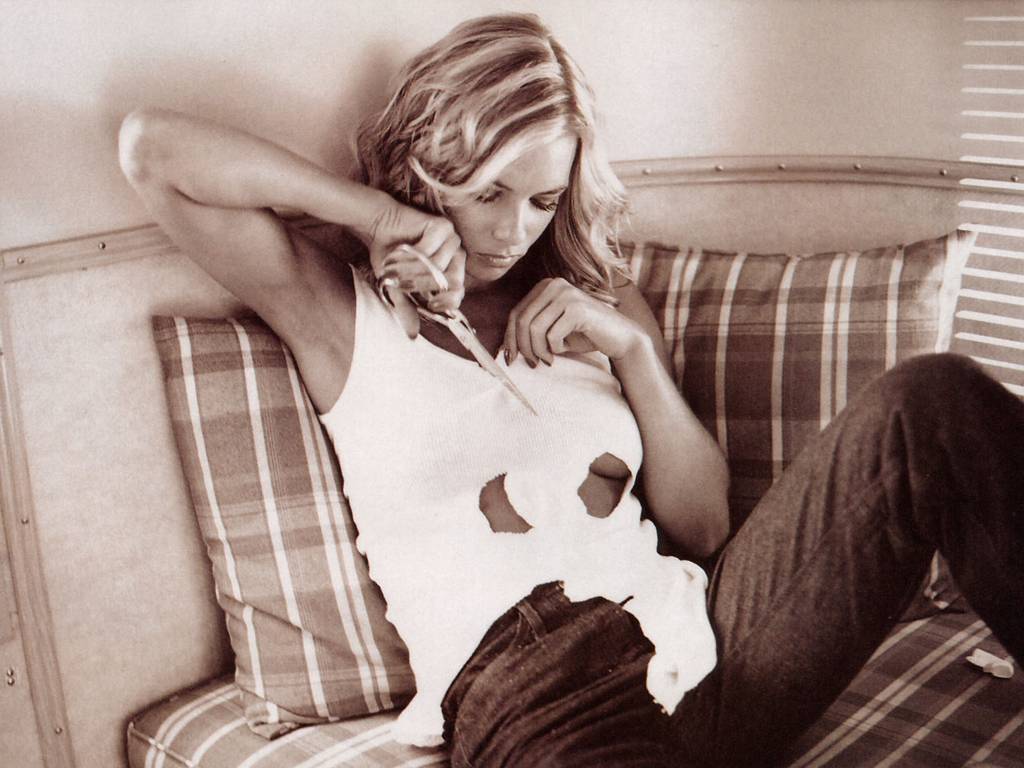 Everybody wants to keep the blonde hair and make me up like a Barbie Doll—I can't stand that, you know," exclaims Jaime. "I'd rather be in flip-flops and a wife beater with my hair pulled back in a hat, quite frankly." Deep down, inside we all crave to be a toothless hillbilly, tucked away back against a rustic mountainside with a rusty steel-blue trailer, a rusty Ford pickup without tires, a balding mullet, and rust colored dog named Earl. Well, she may not be balding, has all her teeth, and doesn't exactly live in a trailer, but she did have a trailer trash ex-boyfriend, in one of her most successful projects, the award winning television series, My Name is Earl, staring Jason Lee.
Jaime has been a MILF now for several years with long time friend, ex-lover, and Cuban concubine, DJ Eric Cubiche. We are regretfully sad for Eric, but happy for us guys to report he's out of the picture. But at least he has all those golden memories, and most importantly he should never forget Jaime's golden blurb, "We make good babies!" Your music may be on the downside, your chick maybe in the arms of another, but at least you can take comfort in the fact that you can make a baby!
The news of the separation came to no particular surprise, when you consider that a few months earlier she had been quoted as saying, "I don't want to go through the rigmarole of throwing a big wedding," in reference to the couple's future. Let this be a lesson, Eric. Women love to get married, they dream of it their entire lives. They have had it planned out since the tender age of five. What the color of the napkins are going to be, the type of little sprinkles and stuff that are going to be on the reception tables, and the expression they will make when their prince charming smashes a giant slab of cake into their face.
The moment your future bride starts using the word "rigmarole" with the same sentence along with "wedding", you might as well start throwing your own stuff out onto the curb. Tear your face out of all the photos and put rabbit ears and ink goobers on all the photos you can't cut your head out of, because it's over. End of story, kaput, done, demolished! Not even watching Oprah Winfrey could save your relationship once it has transgressed to this point.
Jaime continues to spread her wings, garnishing her accomplishments in dance, modeling, acting, business entrepreneurship, producing (film, Death To The Supermodels), and lest we forget, making great babies!
(Story originally appeared in Urban Male Magazine)