After getting kicked out of the Victoria's Secret with Mickey Rourke, Charlie Sheen, and Richard Simmons for impersonating men, I knew I'd better step up my game or risk being labeled a dork for the rest of my life. I threw out Jon Gosselin's party line, Lindsay Lohan's 'pick me up I'm drunk' help line, and set out to hang with a brand new batch of D-listers.
Afternoon Shopping with Paris Hilton–

Saturday afternoon I got a call from Paris whining about Tinkerbell's outdated wardrobe. While not the kind of D-Lister I had in mind, I didn't have anything else to do, so I grabbed my coat, and told her to meet me at the pet store in a half hour. Before she could start whining again, I hung up on her and dialed Mike Tyson's cell to confirm we were still on for breakfast in the morning.
I got to the store and Paris was waiting outside underneath an oak tree with Tinkerbell. She had her pouty face, and I could tell she was in no mood for jokes. We walked around the store for four hours without saying a word. Just as we were about to leave, she found a perfect commando dog jacket, to go with her commando underwear. With a giggle and twinkle in her eye, she asked if I wanted to come back to her apartment to watch home movies. I had to respectfully decline, however, as I was already late for Margaritas with Snooki.
I had just entered the bar and noticed Snooki was passed out underneath a bar stool where a fat biker was seated. He was resting his heel on her chin and tapping on her forehead to the beat of La Bamba. There was a piece of gum stuck to his boot, and every now and then it would dislodge and stick to her nose for a few taps, before disappearing again.
I asked him kindly if I could borrow his footrest for a bit, as I was supposed to have a couple drinks with it. He looked down at Snooki, hesitated a moment, and then noticed the "I *heart* Snooki" t-shirt I was wearing. He snickered and mumbled something about needing to get the hell out of this town, and pushed her lifeless body to the center isle. I dragged her over to an empty seat, made sure she was breathing, and enjoyed a lovely conversation with myself. As she was coming to, I realized it was getting late, so I dropped her back under the stool and bid them both farewell.
Sunday Breakfast with Mike Tyson-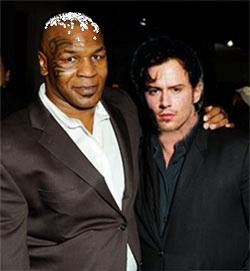 I got to the IHOP about fifteen minutes early. Mike was sitting on a bench with a group of pigeons circling his head. He was sitting with his legs crossed and hands resting on his knees, meditation style. As I approached closer, I could see a pile of bird droppings on his head that looked as if they'd been collecting there since yesterday. He heard my footsteps and waved me over with a toothsome grin.
"Wife kick you out again," I said, dodging a couple bird bombs as they splattered on the sidewalk. "Yeah," he replied as he headed for the front door. We sat down and both had a mountain of pancakes with extra syrup. "Those good," I asked. "Yeah," he replied. We finished up, wiped the syrup from our chin, paid the waitress, and started out towards the parking lot. "Same time next week?" I asked. "Yea—," he squeaked, slipping on a pile of droppings and pancaking three or four pigeons underneath his massive rear end.